Thousand Foot Falls, a waterfall and natural monument near Mariposa Jungle Lodge in Cayo, Belize, is known as the highest in Central America. This massive water feature is actually 1,600 feet tall, sending water down a granite cliff to plummet into a deep gorge. One of many natural adventures that is sure to impress.
Most visitors to Belize catch their first glimpse of these magnificent falls from the viewing area, which is reached by an unpaved and sometimes challenging road and actually some distance away. Only the top 1000 feet or so are visible. Perhaps that's why the site earned its misleading name.Over the years, hearty visitors have taken a long hike down the side of the mountain, but the trails have not been maintained and the hike is not currently recommended. If you're lucky, you might see a beautiful mist rising from the pool at the bottom of the waterfall.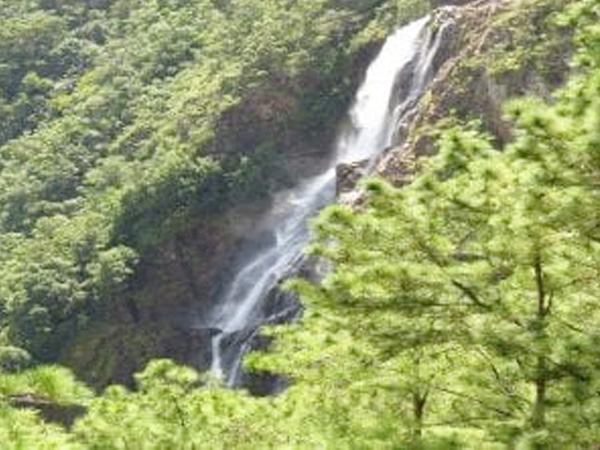 Natural Wonder of the Thousand Foot Falls
For birding enthusiasts, a visit to Thousand Foot Falls offers the possibility of viewing many species, but the highlight is the Orange-breasted Falcon, which nests along the limestone cliffs and crevices of the falls. This rare bird is absent everywhere south of Belize and Guatemala and found again only in Panama. A natural wonder to be admired for its rarity.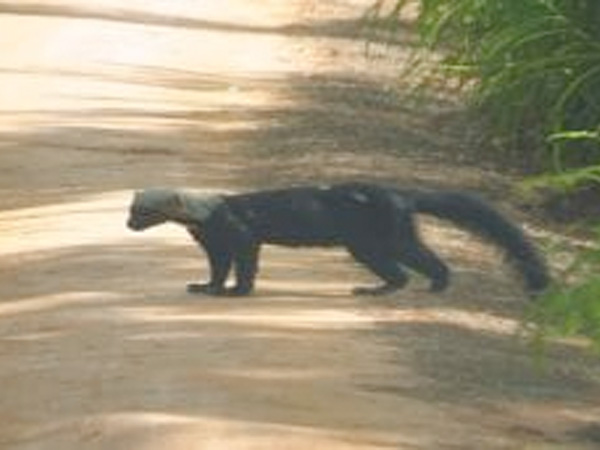 Tayra seen by a guest on a Natural Adventure
Recently, some Mariposa Jungle Lodge guests had a special surprise when they encountered a strange, black animal en route to the viewing area. When they returned to the lodge with a picture, our knowledgeable staff identified the tayra, a large, agile, tree-dwelling animal of the weasel family, with a short dark coat, native to South and Central America. This was an unexpected, special encounter with Belize nature.
Thousand Foot Falls is located in Belize's vast Mountain Pine Ridge Forest Reserve, a protected nature area teeming with wildlife and unique avian species. The reserve measures more than 430 square kilometers (106,000 acres) in size and was established in 1944 to help protect the native pine forests of Belize, including Honduras pine and broadleaf species. Most of the reserve is unpaved wilderness, allowing visitors to experience pristine nature.
The Mountain Pine Ridge adventure offered by Mariposa Jungle Lodge includes a visit to Thousand Foot Falls, the Rio Frio Cave (an easily accessible former Maya ceremonial cave), the Rio On Pools, and Big Rock Falls, some of Belize's most scenic and popular sites.Order a picnic lunch to complete a great experience among the wonders of Belize.
We custom design Belize adventure packages to create memories for couples, groups and families that last a lifetime. See our Special Offers page or request a Custom Quote so we can personalize your "Adventure by Day and Comfort by Night" at our Belize Jungle Lodge.