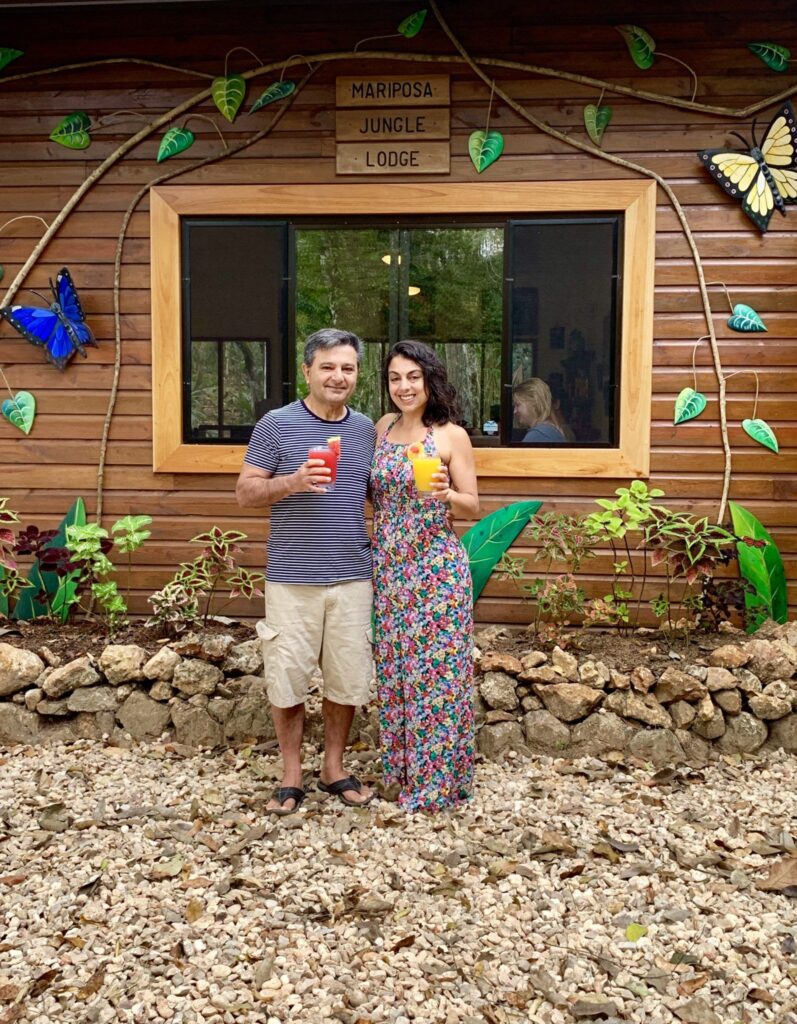 We are honored to introduce ourselves as owners of Mariposa Jungle Lodge! We are father and daughter Paul & Aline of Montreal, Canada and we have been in the hospitality industry in Belize for the last 18 years. We are very passionate about the history, culture, people, music and food of Belize and love sharing space with people from all over the world! Prior to Mariposa, we owned and operated Wild Orchid in Placencia, but something was missing. We immediately fell in love with the vibrancy and energy of Mariposa. With its kind and attentive staff, luxury cabanas, and Chef Norma's healing and replenishing culinary creations, we instantly knew this was the perfect place for us (and others) to live, love, learn and enjoy Belize's natural beauties. The practice of Yoga has transformed our lives. We wish to share this practice and our little piece of paradise so that others can have transformative experiences as well. Enjoy our breathtaking yoga deck under the lush jungle canopy, as well as a newly expanded Spa, Sauna and Massages: Mayan, deep tissue or Swedish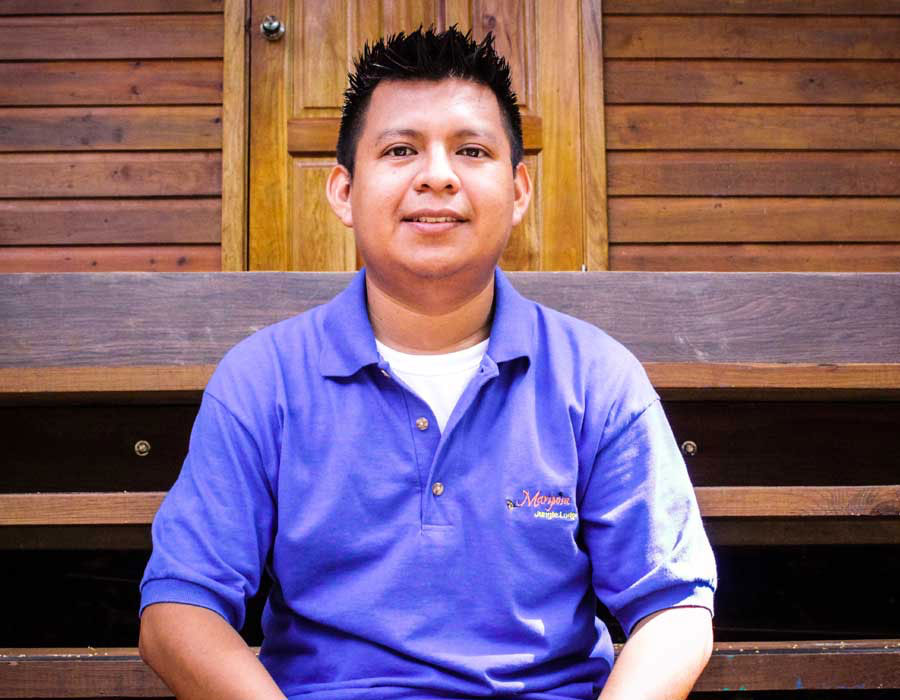 Gladimir has been at Mariposa for the past 11 years and continues to be an asset to the company. He is a great multi-tasker starting up from assisting in the management of the resort, accounting and working with guest services up to trouble shooting internet and security system. He has a bachelor's degree in Business Management from the University of Belize and a Certificate in Tourism Hospitality Management. His leadership style has motivated the rest of the staff to work together as a team towards achieving the company's objectives.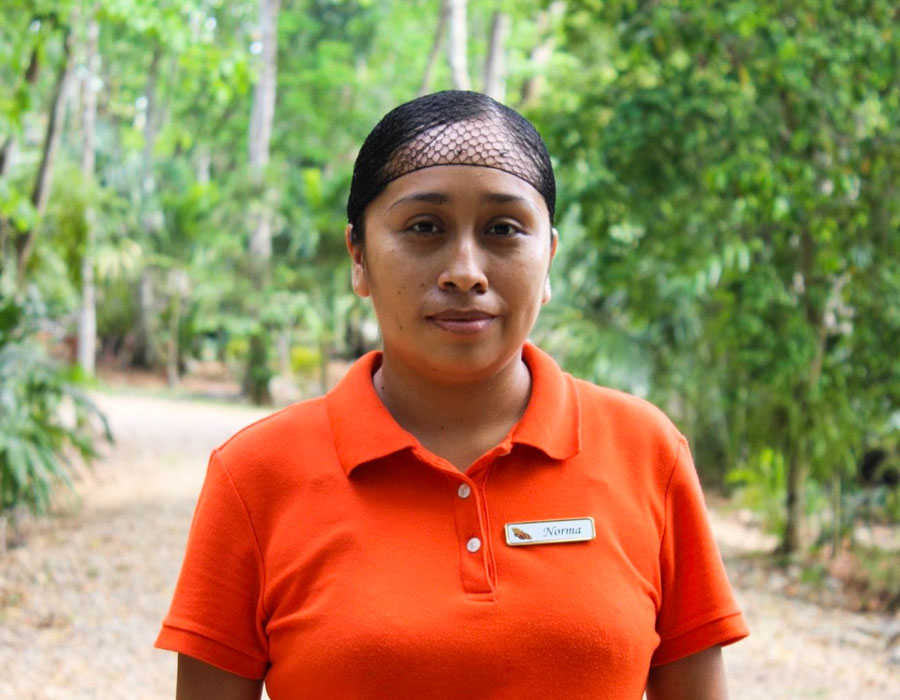 Norma is the Head Chef here at our Resort who is specialized in various culinary techniques which gives it a unique taste to our different specialties. She learned cooking at an early age which makes her an experienced Chef in the kitchen. She obtained a Certificate in Food Preparation from Cayo Center of Employment Training (CCET). Her priority is making individuals feel special through the taste of her meals either being appetizers, soups, Vegan dishes or Deserts. Norma is an active woman who is part of the San Antonio Women's Group Cooperative in the village of San Antonio.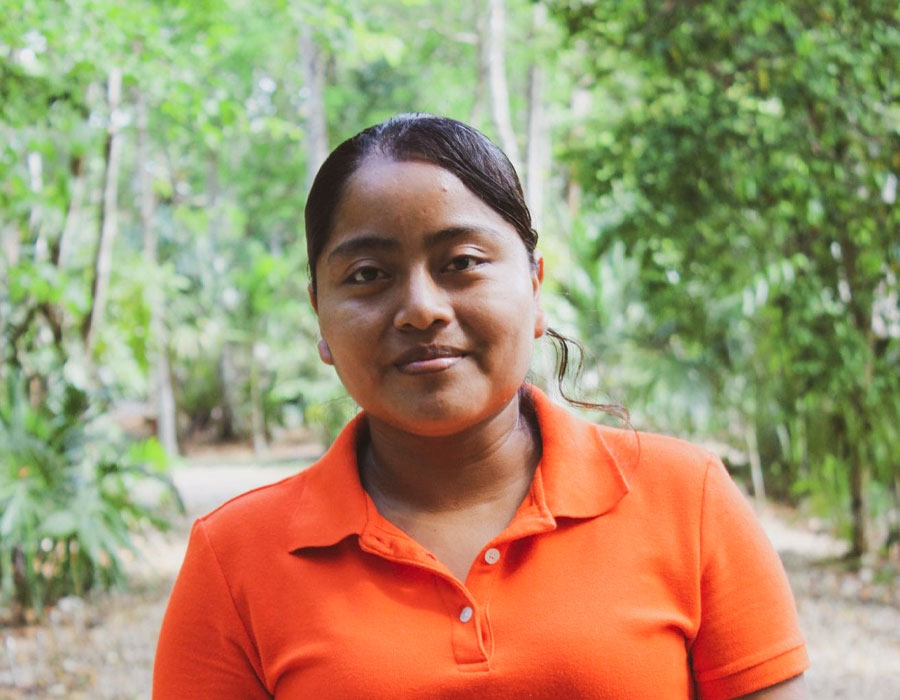 Rosa has been working at Mariposa Jungle Lodge for the past 5 years as a Housekeeping and Waitress. She enrolled for a course at Cayo CET and earned a Certificate in Tourism Hospitality Management. Rosa has unique talent of decorating Cabanas for Check-ins and honeymooners. When working in the dining, she will always make you feel at home through her smile and will ensure you have a memorable stay.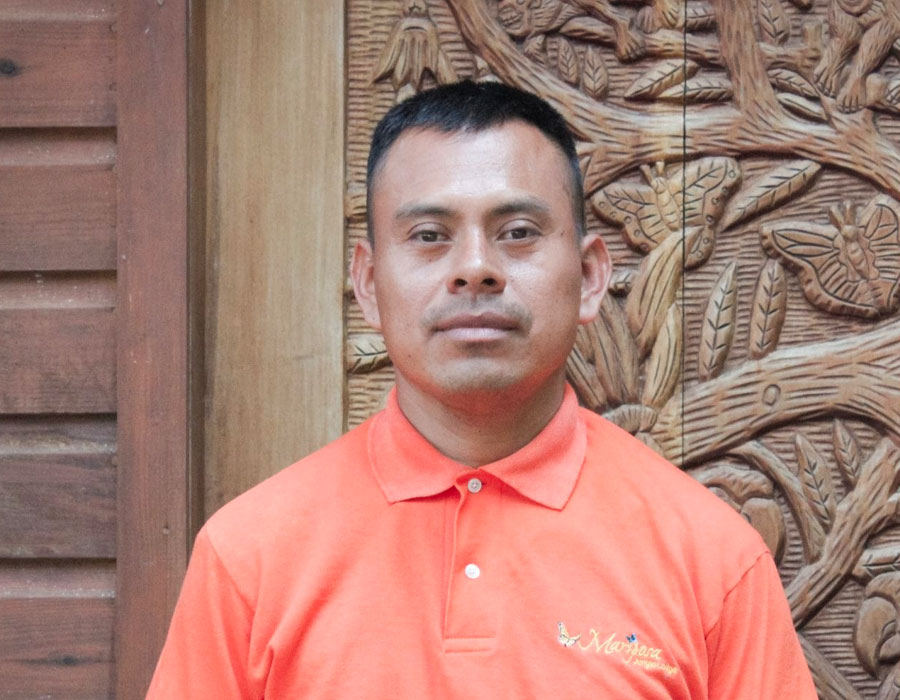 Josue is an expert in plants, botanical and does landscaping in order to keep our Resort at first sight. His love for plants started from since he was small up to signing up for a Horticulture Course and being the Head Guide at his previous workplace. He is eager about expanding his knowledge when it comes in the development and proper care of plants.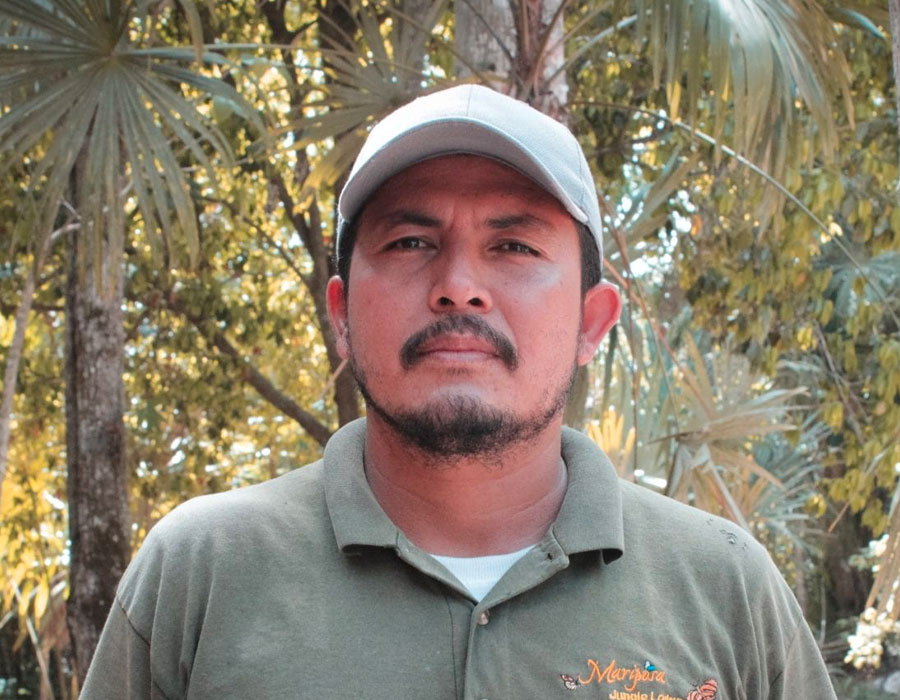 Luis is one of Mariposa's first employees and continues working hard for the success of the company. He contributed in the development of the Resort setting and building our Luxury Cabanas, Restaurant and other attractions that we are pleased to offer. His main work area includes gardening, maintenance and makes sure everyone is safe. He can do anything from repairs to electrical and he's also a Church Pastor.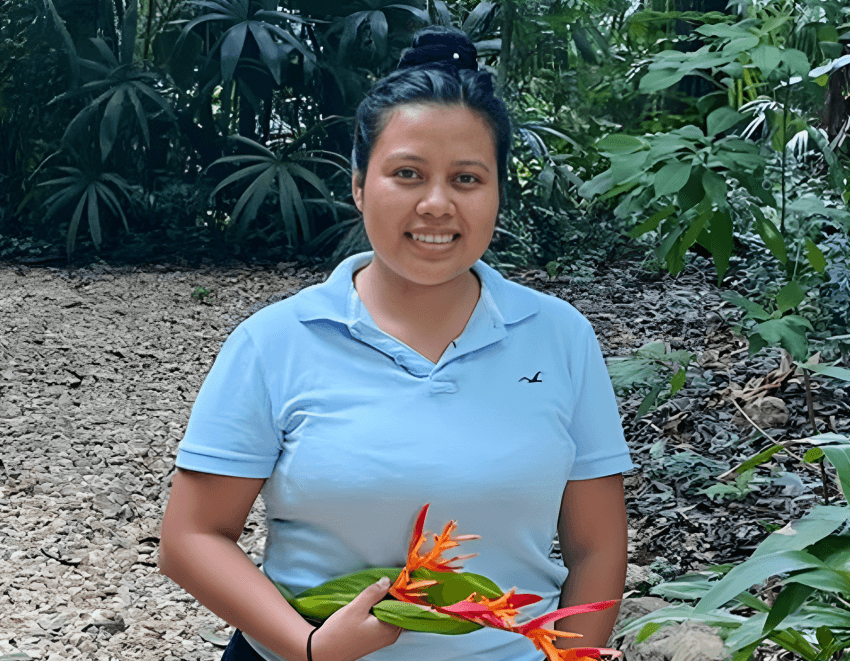 Sulema is our masseuse and is the person in charge of providing both deep tissue and a Swedish massage. Relax and enjoy a day in our spa and sauna.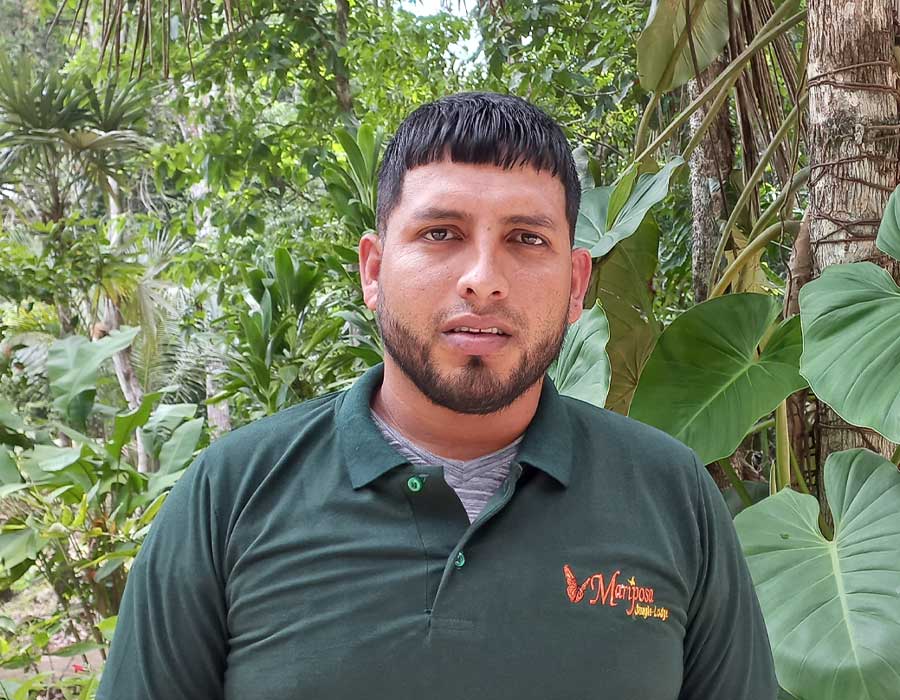 Luis is one of Mariposa's first employees and continues working hard for the success of the company. He contributed in the development of the Resort setting and building our Luxury Cabanas, Restaurant and other attractions that we are pleased to offer. His main work area includes gardening, maintenance and makes sure everyone is safe. He can do anything from repairs to electrical and he's also a Church Pastor.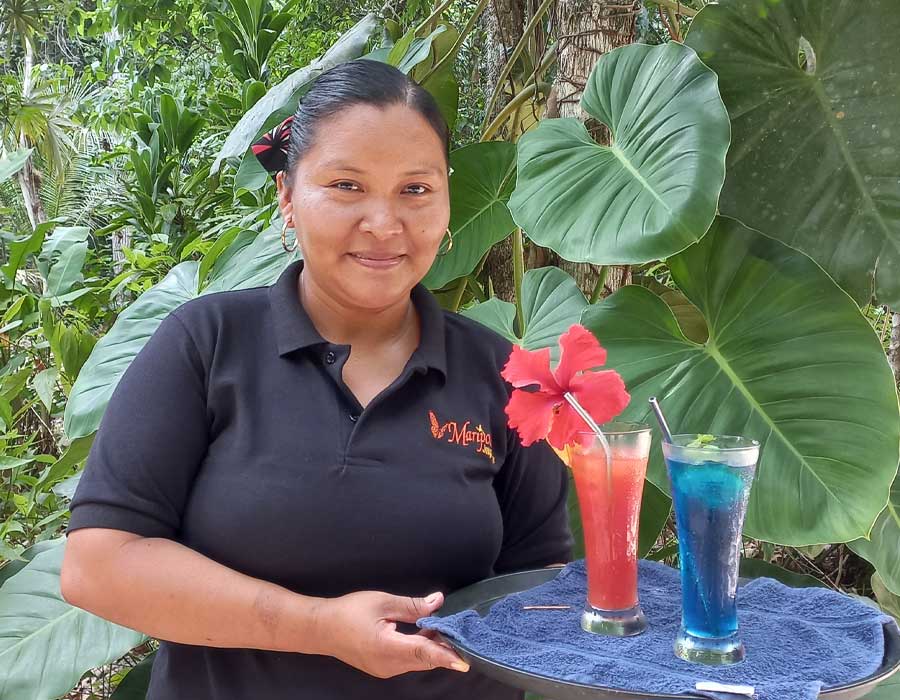 Cirvilla has worked in the tourism industry for the past 18 years. She is currently working as our bartender/waitress and is undergoing training to because an assistant chef.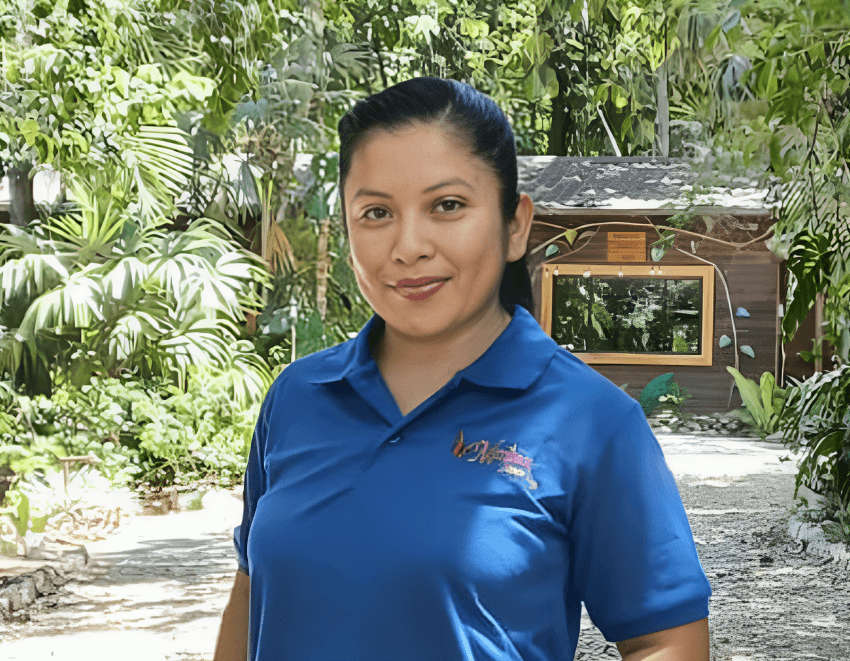 Vanessa has a passion to interact with guests and loves to meet and greet guests. Vanessa has a vital role and is the first person to get in contact with our beloved customers.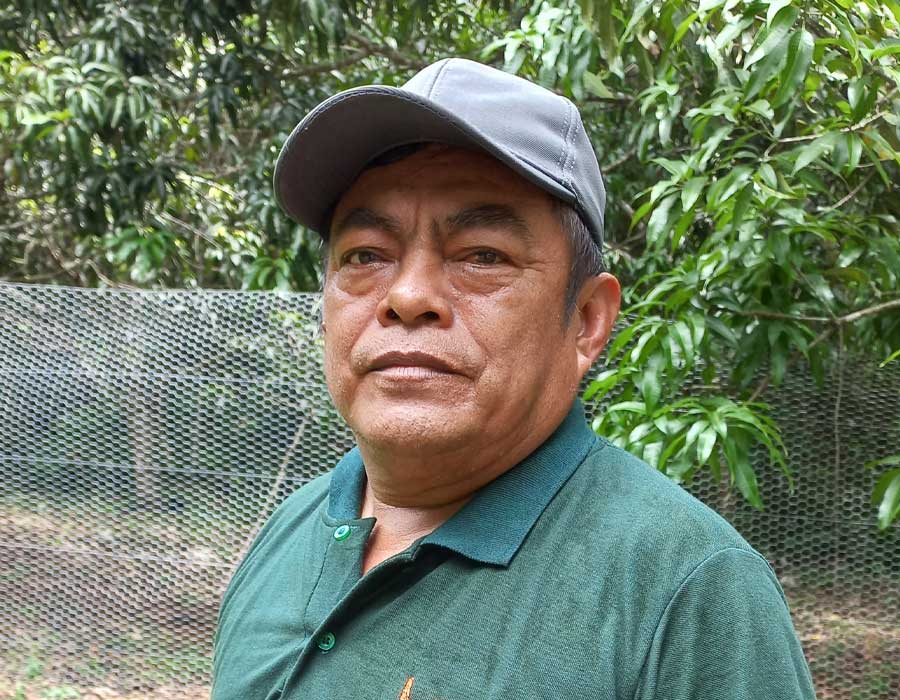 Mr. Inocencio is our gardener and has worked with organic vegetation for the past 20 years. His knowledge and experience have allowed our kitchen to serve fresh organic vegetables to our guests.
We are a Belize Eco Resort
Mariposa is committed to providing a great Belize jungle adventure for our guests in a safe, comfortable and environmentally-friendly by bconserving our natural resources, and operating with eco-tourism principles in mind.
Showers include refillable dispensers with biodegradable body wash, shampoo and hair conditioner. This helps reduce waste associated with product packaging designed for individual use
We use only biodegradable toilet tissue
To conserve energy, we use fluorescent lighting where appropriate throughout the property
Without compromising functionality, we have installed low flush water toilets and conservation shower heads
Water is served in our bar and restaurant "on request" in order to minimize plastic consumption
"Gray Water" from the sinks and baths is used to irrigate the flora and fauna found on our Belize Eco-resort
We believe our guests have intentionally selected a Belize Eco-resort as a responsible choice that allows them to enjoy the jungle while limiting their impact on the environment.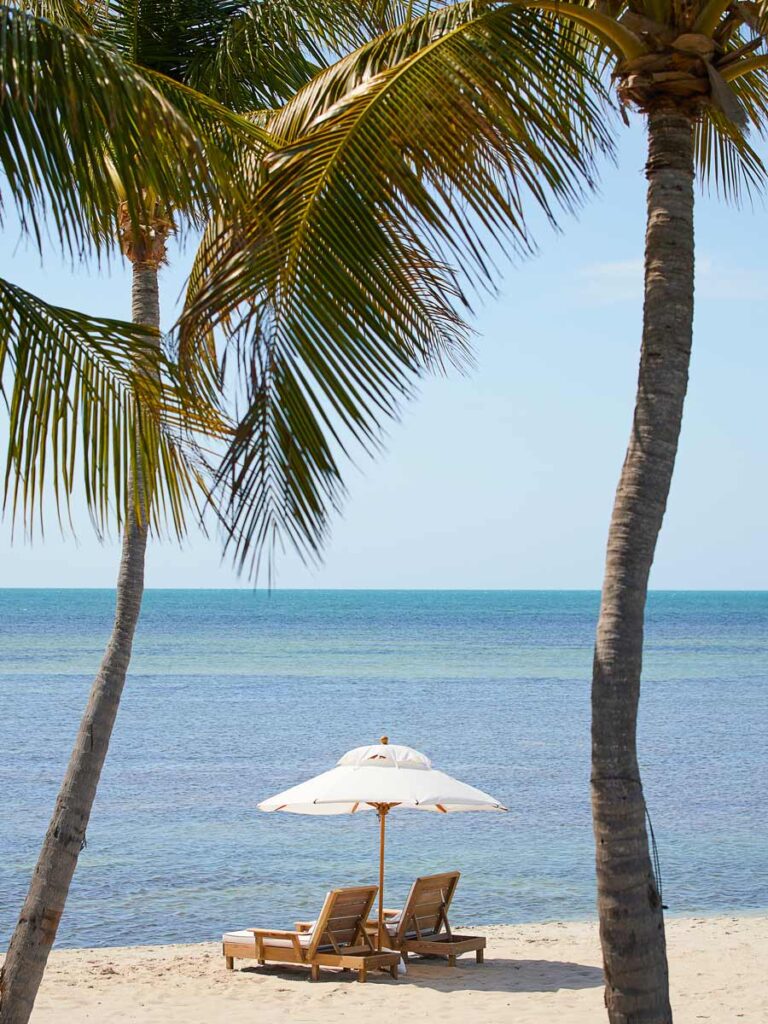 Frequently Asked Questions
Binoculars for viewing birds or wildlife, insect repellent with a high DEET factor, sunglasses, head protection, light raingear, a protective sun hat or cap, spare batteries or recharging equipment for your camera batteries. Experience has taught us that ordinary baby oil is an effective repellent for no-seeums and sand flies, which are more common than mosquitos in some areas. We provide umbrellas, and flashlights,.
No. The Belize Tourist Board posts a statement that there are no serious epidemic diseases in Belize and no inoculations are necessary. Some people take anti malaria tablets in an abundance of caution, but malaria is not common in this area. You should make these decisions with your personal doctor.
Mariposa Jungle Lodge is designed for adults and young people who are independent and self-sufficient. We do not have cribs or other amenities for infants and toddlers. We welcome young children who are accustomed to an adult environment.
If you cross the border from Belize to Guatemala in order to visit Tikal, the Belize government imposes a departure tax. The tax is currently about $20 U.S. (Another departure tax is charged at the airport when you leave Belize, but some air carriers include it in the price of your ticket.) In addition, a small entry fee may be charged at Guatemala Immigration. Then a representative of the Municipality of Melchor de Mencos, the first town after the Guatemala border, may stop you for an entry fee. Your guide will assist you throughout the process.
Service charges are added to ensure that all employees of the Lodge, seen and unseen, receive some recognition that their efforts have contributed to occupancy. Most resorts in Belize have adopted this policy. Given the fact that 10% is distributed among the entire staff, we expect some guests to give supplemental gratuities to anyone you'd normally tip at a higher rate. Supplemental tipping is neither required nor expected, but it is greatly appreciated.
Only if you're not using US currency. Locals prefer to be paid in US currency because it's more valuable in exchange for currencies outside Belize. For example, at the Guatemala border, one gets more quetzales for US $1 than for the equivalent $2 Belize. The Belize dollar is pegged 2:1 to the US dollar and US currency is accepted throughout Belize at that rate. The exchange rate at the airport bank office is less favorable than at other locations.
You can fly from Belmopan George Price Airstrip, Maya Flats Airstrip, Goldson International Airport or Belize Municipal Airport. We recommend the latter because the fares are lower and there's no disadvantage when traveling to the islands. The best bargain is one of the water taxi services in Belize City. The fares are nominal and it's a great boat ride (We can transport you to any of the three transportation sites for the same price from the Lodge). Useful trivia: In Belize, "cayes" is pronounced "keys".
Travelers checks may be accepted at larger establishments but are not popular because the local banks do not cash them at par. Mariposa Jungle Lodge accepts Visa and Mastercard. Cash is always gratefully accepted.
A generous tip for excellent service would be US $5-$10/per person for a full-day excursion and half that for a half-day excursion. The amount is discretionary, of course, and should reflect your level of satisfaction.
About two hours from Belize International Airport, 1.5 hours from Belize City, and 45 minutes from San Ignacio airstrip at Maya Flats.
Call our vacation experts