MEET THE LOCALS ON A BELIZE CULTURAL ADVENTURE TO THE SAN IGNACIO FARMERS MARKET
Open-air markets may be a Belize cultural adventure for visitors, but they are the norm in numerous Belize population centers, each of which has one particular "market day" that attracts vendors from outside the community. Saturday is Market Day in San Ignacio, the second largest city in Belize with nearly 18,000 people. In Belize, locals buy fresh fruits and vegetables from the Farmers Market or small, private stands along the roads rather than in large modern supermarkets.
There are two groups of vendors at the Market. The green grocers with permanent stalls that are open every day (except occasional holidays). They purchase fresh goods in bulk on Mondays and Thursdays from wholesalers to supply the local market with fresh goods on Tuesdays and Fridays.They resell to both individuals shopping for their families and others who buy in small bulk for resale in their shops or stands in more remote locations. Local resorts and restaurants are also among the regular customers.The permanent vendors pay a higher rent for their well-located stalls that are provided security at night. Running their market stall is part of their daily routine and among your cultural adventures here in Belize.
On Saturdays, Vendors come from miles away to rent temporary sites for stalls to sell everything from fresh foods, spices, fruits and vegetables to Belize artwork, clothing, plants, toys, small electronics, and more. The street in front of the market is crowded with coolers and scales for vendors who come from Belize City or other areas to sell fresh fish. Truck tailgates are used to display other products and can be very enjoyable to stroll along and see what is available and what the locals are buying.
The diversity of Belize's culture is apparent by the horse-drawn buggies and traditional Mennonites who bring their homemade cheeses and other products to sell. These local farmers live a significantly different life than the modern, entrepreneurial Mennonites who settled, developed, and put Spanish Lookout on the map as the place to go for a myriad of quality products and services. Traditional Mennonites dress differently than others but resent having their pictures taken, so we respectfully refrain from violating their preference.
Music permeates the atmosphere at the market and local youth congregate like teenagers who gather at the shopping malls in other countries. You can't help absorbing the festive atmosphere where you can meet the locals, enjoy fresh made Mayan food, Quesadillas, Pupusas (Salvadoran Influence) and fresh natural juices. Shop for souvenirs or go relax by the Macal River just feet away from the hubbub. Tired from the crowd or heat, move on to the nearby Burns Avenue, a pedestrian street for local restaurants, ice cream, souvenir shops, and wi-fi if you're feeling disconnected.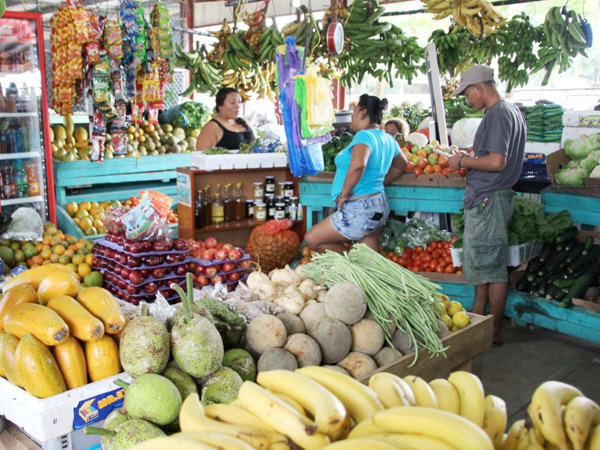 We encourage our Mariposa Jungle Lodge guests to enjoy the Saturday Market, along with other opportunities in the downtown area, such as The Green Iguana Conservation Project, Ajaw Chocolate tour, river canoe or tubing, Belize Botanic Gardens, and Mayan Sites like Xunantunich. Here's a chance to see Belizean arts and crafts, look for a piece of Maya embroidery, small wood carvings or earrings that make great, lightweight souvenirs. Support the traditional Maya art of jipi japa weaving being perpetuated largely by the Maya women of the Toledo area. Prices are usually modest but polite bartering for more costly items or volume purchases is acceptable, although the likelihood of lower prices is not usually anticipated in the asking price as it often is in other countries. Shopping in foreign open-air markets and getting to meet the locals is one of the most rewarding experiences you can have in Belize and introduces you to daily life and culture that enhances your Belize adventure with understanding and appreciation.
We custom design cultural adventures to create lasting memories for couples, groups and families. See our Special Offers page or request a Custom Quote so we can personalize your "Adventure by Day and Comfort by Night" at our Belize Jungle Lodge.
ATM CAVE TOUR PRICE: $180USD + fee
RESTRICTION: Must be 40 inches or taller
Wander, wonder, or simply relax – the choice is yours when the outside world feels so very far away.