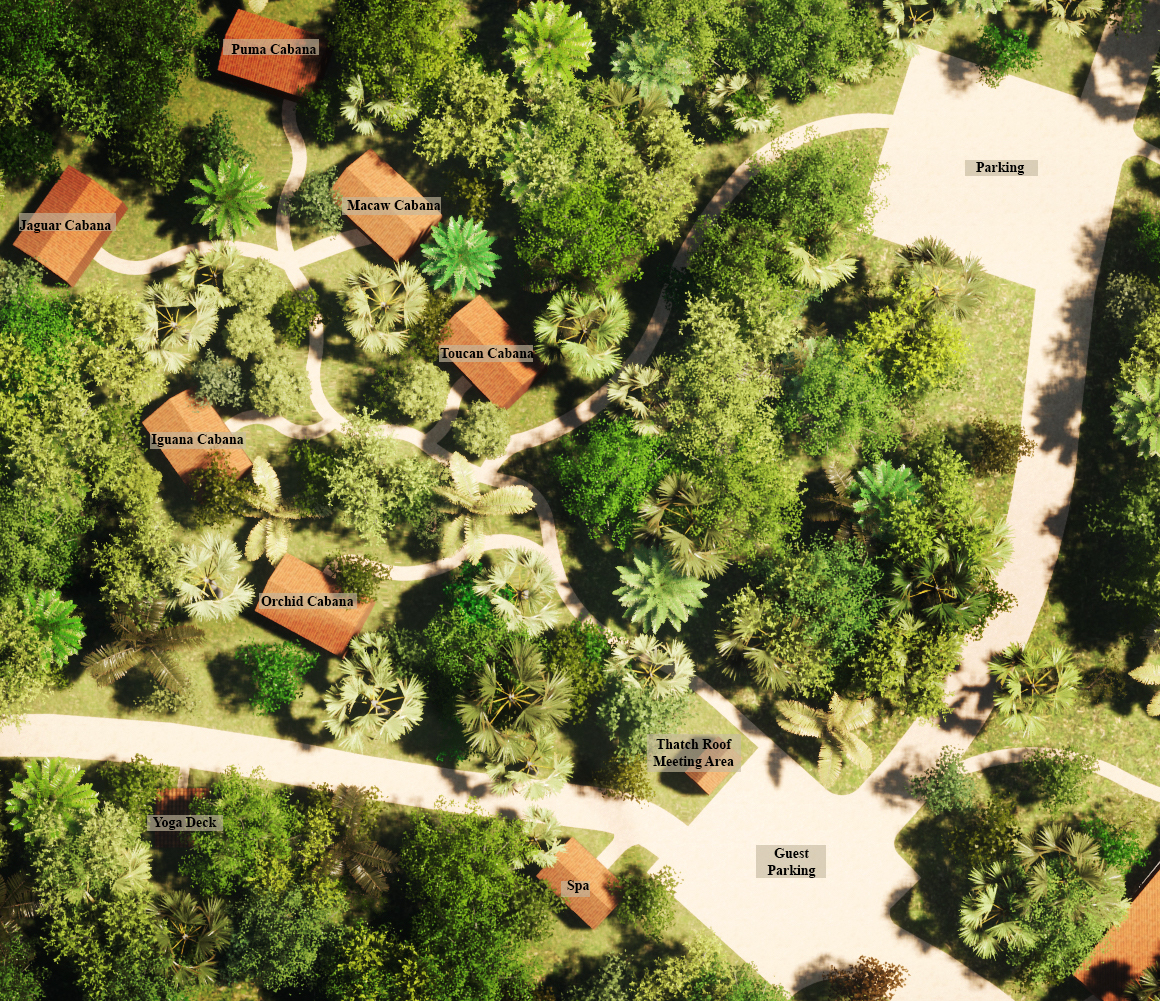 Guests often tell us the reasons they love Mariposa Jungle Lodge and we really appreciate the feedback! Since 2008 Mariposa Jungle Lodge TripAdvisor reviews from our guests have consistently told us what is best about the Lodge.
What do our Belize travelers most appreciate? Don't take our word for it. See how our guests view us!
An experience not to be missed
Beautiful setting, wonderful staff, delicious food prepared by expert chef Norma. Couldn't ask for more. Accommodations very comfortable. Staff arranged our day trips. Tikal trip fantastic and our taxi driver Alex and Rubin our Tikal maestro guide, were extremely kind and friendly. We learned a great deal of the wonderful Mayan history and people of today. The Mujeres Coop is a must visit as well to learn more cultural information. Come learn, relax and take in the beauty of this area and the generosity of its people. Thank you to the entire staff at Mariposa Jungle Lodge!
Small charming hotel, intimate service and impeccable cleanliness! comfortable rooms, excellent bedding, air conditioning, hot water, etc. The restaurant serves tasty, fresh, and colorful cuisine – Swimming pool, ping pong table, minifoot, walking paths, yoga deck, spa, bird observatory… .all this in the middle of the jungle but only 10 minutes by car on a superb brand new road from the Western Highway – exit indicated "Barton Creek" before arriving in Santa Elena – Perfect location to visit Rio Hon Pool, Bib Rock, ATM Caves, Barton Creek etc… Have Fun!
https://goo.gl/maps/2Xbehi2FVunUuWNw5
Outstanding, personalized guest services and local tour guides! One of our traveler favorites is the authenticity and advanced knowledge of the Belizean tour guides…
"Sharyn booked our expeditions to Tikal and ATM Cave with fantastic guides. Truly amazing adventures. ATM was epic! (You will feel a bit like Indiana Jones swimming into the cave with your headlamp on.) Don't overlook the fantastic horseback riding option while staying at MJL. Just 10 minutes down the road, Jose will take you a ride over his beautiful mountainous property that is covered with ruins from Mayan dwellings. While this alone would be enough, Jose then brought us to a grated hole in the ground and explained that it was a Mayan cave on his property. To my surprise, he pulled out a key, opened the grate, showed us a rope and asked us if we wanted to go down. You slide down a few feet holding onto the rope and what awaits you is beautiful cave which is filled with two thousand year old Mayan pottery. It was breathtaking- and if that wasn't enough, Jose let us pick up and examine the pottery. Truly an amazing experience. Then back to the comforts of the lodge, where the staff welcomed us, and served us another amazing meal. After dinner, tiki torches light the way to your cabana. The Mariposa Jungle Lodge is a gem– don't miss out on the experience!"
Read the full review here: https://www.tripadvisor.com/ShowUserReviews-g946910-d946071-r500038341-Mariposa_Jungle_Lodge-San_Antonio_Cayo.html
Comfortable accommodations in a natural jungle setting. Adventure by day, comfort by night! Our favorite tagline holds true with guest after guest loving their comforting rooms after a day exploring the pristine jungles of Belize.
"My husband and I stayed in the Toucan Cabana and found there to be plenty of space in the room and bathroom. The little screened in porch was just a bonus to an already comfortable room, and the perfect spot to have our morning coffee. The mattress and linens were very comfortable, there were plenty of towels, and I loved the soaps and shampoos in the bathroom."
Read the full review here: https://www.tripadvisor.com/ShowUserReviews-g946910-d946071-r561573604-Mariposa_Jungle_Lodge-San_Antonio_Cayo.html
Fresh healthy meals prepared to meet individual dietary preferences.
Our guests consistently tell us how much they love the locally sourced farm to table food. Before you arrive our welcome team will make any notes on your dietary needs. We often serve vegan, vegetarian, pescatarian and kosher meals. You let us know what you need and we make sure you have amazing food every single day.
"My husband and I wanted to visit Belize, but as a longtime vegan, I was concerned about my ability to find food outside of a metropolitan area (we normally stick to cities when we travel, for this reason). I Googled "vegan Belize" and thankfully discovered the Mariposa. I cannot tell you what a luxury it was not to constantly have to worry about my food situation. The lodge prides itself on catering to different diets and to your personal food preferences."
Read the full review here: https://www.tripadvisor.com/ShowUserReviews-g946910-d946071-r579058214-Mariposa_Jungle_Lodge-San_Antonio_Cayo.html
At Mariposa we take pride in investing in our local economy, and our guest love contributing to a sustainable economy
The friends and family we have made along the way truly make staying at Mariposa a unique and fair trade vacation in the Belize jungle.
"The Mariposa Jungle Lodge is a unique lodge in the heart of the Belizean jungle, yet with the service and creature comforts of a luxury hotel. The outstanding feature of this place is the close-knit relationship that the proprietors (Sharyn and Jim) have established with local families who built and now work at the Lodge. The respect that the owners have for the land and its people is reciprocal. There was more than one person in San Ignacio who, upon learning where we staying, commented on the owners' commendable contributions to the local community."
Read the full review here! https://www.tripadvisor.com/ShowUserReviews-g946910-d946071-r561457130-Mariposa_Jungle_Lodge-San_Antonio_Cayo.html
We deeply appreciate the positive, informative reviews posted by our thoughtful guests who take time to help us by sharing their experiences at Mariposa Jungle Lodge in Belize. Thank you!
Come see for yourself why this one of a kind Belize Jungle Lodge is the perfect getaway for you and your family. Book today and you too can enjoy all the amenities and personalized service offered at Mariposa. Email Gladimir direct – glad@mariposajunglelodge.com